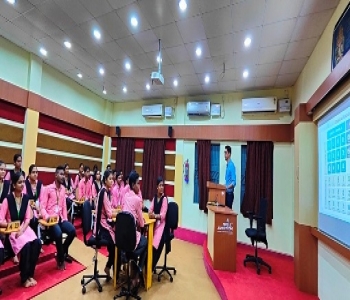 The institute is well equiped with one Language Lab cum communication Since 2014 for
1.enhancement of knowledge of English Language
2.Development of interpersonal communication skill and
3.Life skills training
The mission is to break the silence of the students and build confidence among them with the art of communication.Since those who donot know English well enough find it exceedingly difficult to compete for a place in India's premier educational institutions and universities,the prime objective of the Lab is to facilitate efficient interaction between teacher and students with emphasis on correct phonetic accents and dialects for effective use as a mode of communication in booming service sector as India moves from manufacturing to service and knowledge economy .With the help of Language Lab one can easily learn the language with different dialects and accents, both the British and the American. The system helps to teach English language very easily with Audio and Video, engaging teachers' conversation with students. This activity encourages the students and improves their communication skills.
Details of Language Laboratory
Laboratory Location : Room No- 92, Academic Block
Total area of available space for both Language communications
& CBT area : 647 sq.ft. (After partition)
Year of handing over the Language Laboratory by the
CACM, IIT, Kharagpur to College : 2014
Stations : One Teacher station and Twenty-four student stations
Basic Feature and Application of Language Console:
Custom-built microprocessor based Teacher Console
Menu driven and keyboard interfaced Teacher Console
LCD Display
Can be upgraded for more no of students
Selection of menu driven LCD display through keyboard
Interfaced with Computer/LCD Projector/TV for multimedia display
Cost effective
Easy to operate through menu
Independent display register request of each student console
Classroom Management features enabled
Inbuilt Flash memory,Mixer and Amplifier
Accurate Pronounciation
Discussion
Cassette/CD Recording of students' voice as well as Teacher's voice
Multi channel Facility :This system helps the bright students to listen to the audio cassette and weaker students to follow the Lecture of the teacher and another group can listen to the CD Programme in the same class at the same time.With this facility the entire class will not be interrupted while answering to a student in the midst of the class.
The teacher can monitor or listen to any student
The teacher can transmit his/her views.
Individual student can discuss with the teacher through call request switch.
The teacher can communicate simultaneously with all students or any individual student.
Pre-recorded audio can be broadcast to individuals
The teacher can record his/her voice or Pronounciation.
Groupwise announcement
The instructor can monitor or listen to any student with or without the knowledge of the student.Pre-recorded audio from CD,Cassettes,VHS,TV Programmes and Internet etc can be broadcast to all students.
Reduces the workload of the teachers to the minimum
Promotes self-learning focus.
Following English language and communication skills related laboratory sessions can be conducted here:
Grammar and English language Practice and Exercises
Vocabulary Building skills
Active listening skills
Practice of Phonetic sounds
Reading comprehension
Business letter writing
Oral Presentation(Self Introduction,Extempore,Public speech,Formal Presentation,use of AV Aids etc.)
Group Discussion(Unstructured & structured)
Mastering presentation tools(Microsoft word & Power point)
Preparation and Appearing for the interview
Situational conversations
Understanding Importance of Body language